come see us, we are open!
We also have a nice selection of fossil and mineral specimens for sale.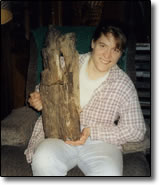 Our varied and eclectic ROCK, MINERAL, and FOSSIL display is OPEN for the season!  Fossilized teeth, exotic (and not so exotic) mineral specimens, weird rocks, and more. This display is located in the VERMONT HISTORY room, where there is more cool stuff than you can shake a stick at! We've got old stuff, a miniature sugarhouse model, art carved by animals, and driftwood that looks like animals. Come find out why Boston magazine called us "Quirky!"

We are located only 10 miles from the world's oldest exposed fossil reef, which is nearly half a billion years old!

Meet Peter Thomas, our "pet" rock! You've got to touch it to believe it!

Find out why the official Vermont state fossil is a Beluga Whale even though we are the only New England state without a sea coast!